♫ Guillaume Grand -Toi et moi ♫
Όπως πολλοί από εσάς, λ α τ ρ ε ύ ω το τσάι! Όχι επειδή έχω μάθει ότι αν πίνεις 2 φλιτζάνια την ημέρα πράσινο τσάι αδυνατίζεις, ούτε επειδή η μεγάλες δασκάλες του Χόλλυγουντ το έκαναν μόδα. Απλώς είναι τέλειο και σας το συνιστώ ανεπιφύλακτα. Και που λέτε τα έτοιμα τσάγια της λίπτον δεν μου πολυαρέσουν, ανακάλυψα βλέπετε το χύμα τσάι. Έψαχνα λοιπόν τρόπους για μια πιο δημιουργική, χαριτωμένη παρουσίαση του χύμα τσαγιού και τα χειροποίητα φακελάκια είναι η τέλεια ιδέα! Άσε που μπορείς να τα κάνεις και πάρα πολύ ωραία δώρα! Ορίστε λοιπόν πως να κάνεις τα δικά σου...
Like many of you, i love tea! And not because it's very "in" drinking tea, or because having two cup of green tea a day help you lose two pounds in three days(really girls?). I love it because it's perfect, it has the perfect analogy of cafeine, just enough to calm me and keep me awake. Coffee on the other hand has a negative and strange impact on me. Anyway i really prefer loose tea leaves and i was trying to find a creative way to use them. The handmade tea bags are the perfect and cutest solution and in my opinion they would make amazing gifts! So here's how to make your own....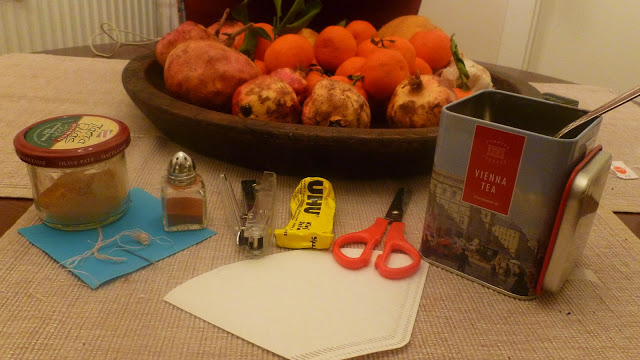 Θα χρειαστείς: φίλτρα καφετιέρας, ψαλίδι, χύμα φύλλα τσαγιού, συραπτικό, βελόνα και κλωστή, χρωματιστό χαρτί, προαιρετικά: μπαχαρικά (λατρεύω την κανέλα και το τζίντζερ στο τσάι μου)
You will need: coffee filters, scissors , loose tea leaves, stapler, needle and thread, a piece of colourful paper, optional: spices ( i am keen on ground ginger and cinammon for my tea)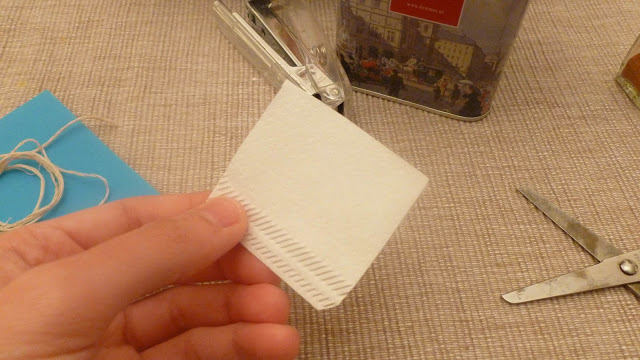 Βήμα 1: Κόψτε 2 κομμάτια φίλτρου σε σχήμα ορθογώνιου. Εγώ τώρα άφησα την ζαγρέ περιοχή για να ράψω μια πλευρά λιγότερη αλλά φυσικά αν δεν σας αρέσει μπορείται να την κόψετε.
Step 1: Cut twoo coffee filters into a rectangle. I kept the ridged part, in order to sew less. However you can remove it if you don't like it.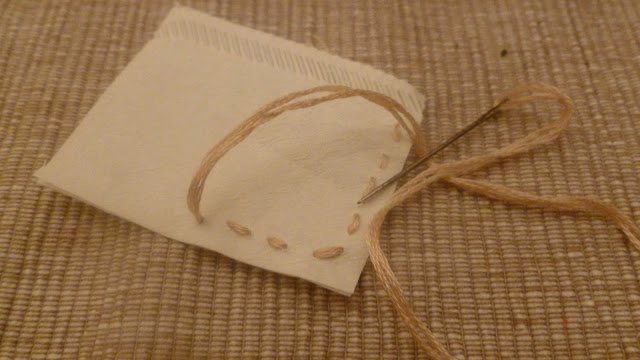 Βήμα 2: Ράψτε τις τρεις(ή τις δύο αν δεν κόψατε την ζαγρε περιοχή) πλευρές των φίλτρων και αφήστε μόνο μια μικρή πλευρά ανοιχτή.
Step 2: Stitch the filters together on the three sides (or the two if you kept the ridged part), leaving only one of the smaller sides open.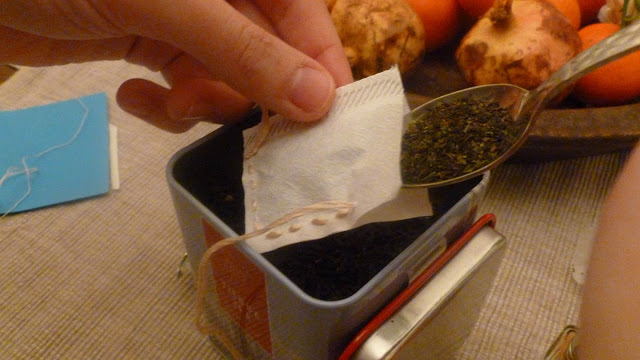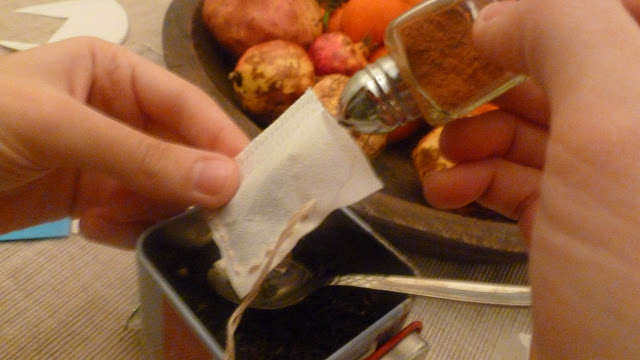 Βήμα 3: Γέμισε το φακελάκι με φύλλα τσαγιού. Εγώ χρησιμοποιώ ένα κουταλάκι του γλυκού, αλλά η ποσότητα εξαρτάται από το μέγεθος του φακελακίου και από το πόσο δυνατό θες το τσάι σου. (Μπορείς να προσθέσεις και μισο κουταλάκι του γλυκού από το αγαπημένο σου μπαχάρι. Η κανέλα με το τζίντζερ συνδιαάζονται τόσο τέλεια κατ'εμέ! )
Step 3: Fill the tea bag with loose tea leaves. I uses 1 teaspoon. However, the quantity of the tea depends on the size of the bag and how strong you like your tea. (You can also add 1/2 of your favourite spices. I go for cinammon and ginger, together! )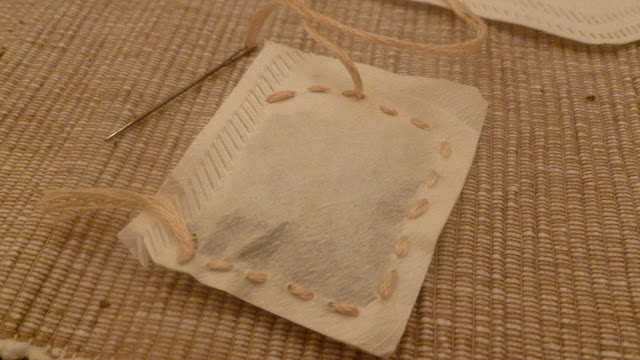 Βήμα4: Όταν γεμίσεις το φακελάκι ράψε όλες του τις πλευρές! Έπειτα δίπλωσε τις 2 πάνω πλευρές που εξέχουν(βλέπε εικόνα) προς τα μέσα και σύραψέ τες ώστε να ακινητοποιηθεί και η κλωστή εκεί (συγγνώμη αλλά δεν έβγαλα φώτο αυτούτου βήματος).
Step 4 : Stitch the top of the tea bag closed. Now you must have four sides stitched! Then fold down the upper two corners (see the foto above), place the thread under one of the flaps and use the stapler to hold it shut. You could also stitch this part if you wanted to. (i'm sorry tha i didn't took a picture of this step)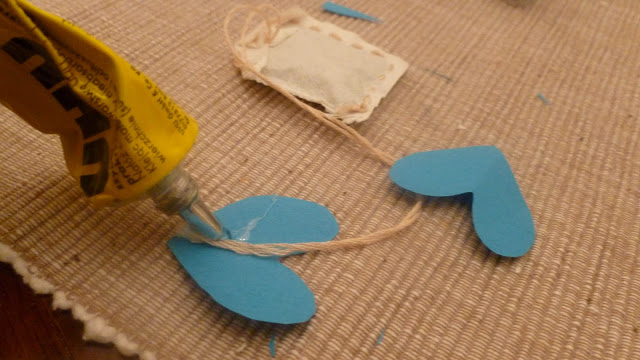 Βήμα 5: Κόψε ότι σχήμα θες από το χρωματιστο χαρτι (εγώ έκοψα καρδούλες, φυσικά! :) ) και κόλλα τα ( ή ράψτα ή σύραψέ τα) στην άκρη της κλωστής σου.
Step 5:Cut the colorful paper in a shape that you like (little hearts for me pls! :) ) and glue (or stitch or staple) them in the end of the thread.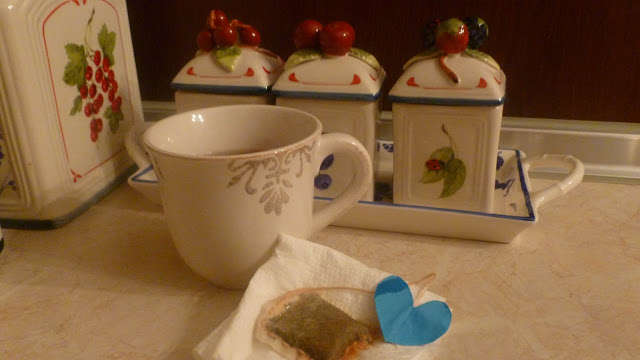 Βήμα 6: Άσε το τσάι 3-5 λεπτά μέσα στο νερό (μέλι ή καστανή ζάχαρη έβαλες; ) και...
Step 6: Leave the tea bag in the water for 3-5 minutes(did you add honey or brown sugar?) and then...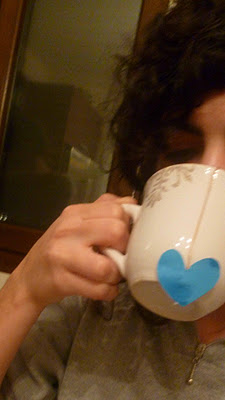 Βήμα 7: Απόλαυσε το τσάι σου!! =)
Step 7: Enjoy your tea!! =)