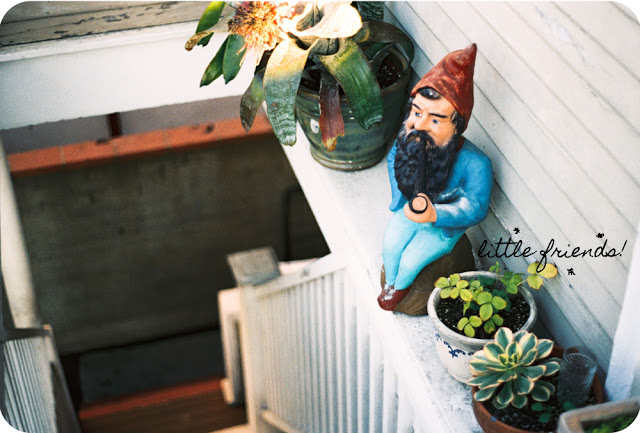 ♫ ♪ Dexys midnight runners - Come eileen
(Scroll down for translation =) )
Φανταστείτε να μένατε σε δεντρόσπιτο! Ακόμα καλύτερα φανταστείτε να μένατε μόνιμα σε ένα τέτοιο, γιατί δεν θα ήταν σαν αυτά τον παιδικών μας χρόνων, με κρυψώνες για τα γλυκά, με ανεμόσκαλες και παρατηρητήριο αλλά κανονικό σπίτι με τα όλα του!! Δεν γίνονται τέτοια πράγματα είπες; Όχι γίνονται και το σπίτι της Φέιθ είναι η ακράδαντη απόδειξη γι αυτό! Οι φωτογραφίες είναι από τον καταπληκτικό Dabito και σας προτείνω ανεπιφύλακτα να επισκευτείτε το μπλογκ του, θα φτιάξει την μέρα σας με την ανάλαφρη γραφή του και με φωτογραφίες που θα ήθελες εσύ να βγάλεις! Ακόμα επισκευτείτε και το διαδικτυακό στούντιο της Faith,call me faith, ή απλώς κοιτάξτε το σπίτι της! Αυτή η κοπέλα έχει γούστο αδιαμφισβήτητα!
Και πάμε τώρα στο παραμυθόσπιτο! Λατρεύω το γεγονός ότι είναι τόσο φωτεινό (το προφανές; λες και είναι μπουντρούμι. δεντροσπιτο είναι.) και διαμπερές! Ακόμα όλες του οι γωνιές είναι τόσο γεμάτες και διακοσμημένες χωρίς όμως όλα αυτά να το φορτώνουν και να κουράζουν! Τα έπιπλα είναι τόσο λιτά, αλλά μοναδικά, και αυτά τα διασκορπισμένα τζίντζιλι μίτζιλι εδώ και εκεί μόνο να τα αγαπάς μπορείς!
Εσάς ποια είναι η αγαπημένη σας γωνια;
Can you imagine living in a treehouse? Even better, imagine living there permanently because it wouldn't be like the treehouses of our childhood, with hiding places for sweets, ladders and observation posts but a normal house with everything! Did you said that these things does not exist? Well you are wrong and Faith's house is the proof for this! The photos are from Dabito, he is amazing and I strongly recommend you to visit his blog. It will make your day with his catchy writing and with pictures that you would like to take! Also visit Faith's online studio, call me faith, or just look at her house! This girl has a very good taste unquestionably!
And we go now to the beloved treehouse my friends! I love the fact that it is so bright (the obvious? it's not a dungeon, it's a treehouse girl) and transverse! Even though all the corners are so filled and decorated, they aren't too much loaded and tiring to see! The furniture are so simple, but unique, and these scattered little thing-ies here and there can only be loved by you!
So, what's your favorite corner?