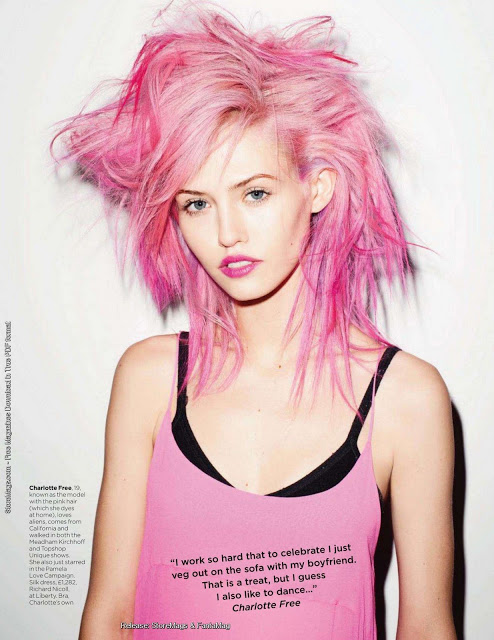 Να πάρει τα θέλω τόσο άσχημα αυτά τα μαλλιά! Βασικά για να λέμε του στραβού το δίκιο, θα τα ήθελα έτσι για μια εβδομάδα να κάνω το κομμάτι μου και μετά θα ήθελα πίσω τα φυσικά μαλλιά μου. Δεν νομιζω ότι θα μπορούσα να καταστρέψω τα όμορφα, μαύρα, σγουρά μαλλιά μου - χαλάρωσε λίγο ρε κοπελιά!- μόνιμα! Είμαι λίγο συναισθηματικά συνδεδεμένη μαζί τους!
Επίσης συγγνώμη για την απουσία των τελευταίων ημερών αλλά την προηγούμενη εβδομάδα ξεκίνησε η εξεταστική μας οπότε αυτό σημαίνει τα κεφάλια μέσα για τις επόμενες εβδομάδες! Αν μου πείτε βέβαια καλή επιτυχία - μέσα από την καρδιά σας, όχι τσιγκούνικα και μίζερα- ίσως να σας ευχαριστήσω με σαββατοκυριακάτικη ανάρτηση!
Α και για μετά την εξεταστική έχω ετοιμάσει κάτι φοβερά πράματα! Μην χανόμαστε! =)
Damn, I would actually kill to have ( i don't like this phrase, i mean this is serious stuff fellas, i just want to focus on my desire) want soo badly (better now, ha?) these pink hair. Well to completely honest i want them just for a week and then i would like to have my natural hair back. I mean i would not damage my beautiful black curly hair -hey chill out girl!- permanently! I simply can't, i am a little bit emotionally attached with them! *laugh*
Also sorry for being absent the last days, but my exam period beginned the last week and i am pretty busy as you can understand! Wish me good luck and maybe i will thank you with a weekend post! ;)
And after my exams, i will show you some really cool blog projects i have prepared! Just you wait!
xo, debbie!
(Photo: via souvenirs via Charlotte Free for Vogue UK)