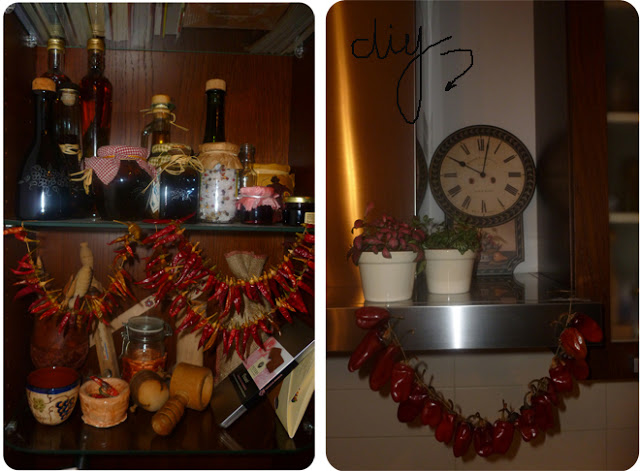 Οκ τις προάλλες σας υποσχέθηκα χειροτεχνία με αυτες τις υπέροχες (και δυστυχώς μη φαγώσιμες) πιπεριές! Τι καλύτερο μπορείς να φτιάξεις, από μια γιρλάντα με μικρές καυτερές πιπερίτσες λοιπόν; Αφήστε που δημιουργούν αυτήν την υπέροχη αίσθηση από χειμώνα και χουχουλιάρικες στιγμές δίπλα σε τζάκι!
Ok the other day I promised you to do a craft thing with these wonderful (and sadly inedible) peppers! What's better from a garland made of small chili pepper then? What's more, they create this winter-y feeling, so much that you want to go grab your blanket and spend time by (and with) the fireplace!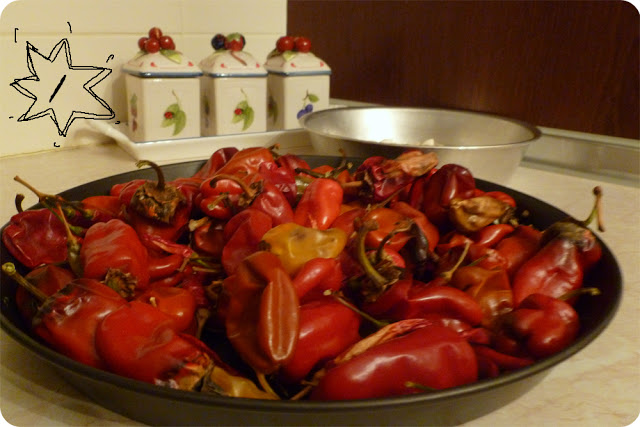 Βήμα 1:
Αρχικά πρέπει να αποξηράνουμε τις πιπεριές μας. Η ιδανική λύση θα ήταν να αποξηραθούν στον ήλιο μιας ζεστής καλοκαιρινής μέρας αλλά επειδή ο ήλιος αυτήν την περίοδο είναι είδος υπό εξαφάνιση την ίδια δουλειά μπορεί να κάνει και ένας φούρνος. Σε χαμηλή λοιπόν θερμοκρασία (γύρω στους 50 βαθμούς κελσίου) αφήνουμε τις πιπεριές στον φούρνο μέχρι να τραβήξουν τα ζουμιά τους.
Συμβουλή:
Οι σχετικά μεγάλες πιπεριές που διάλεξα για την δεύτερη γιρλάντα δεν αποξηράθηκαν, αλλά μαγειρεύτηκαν. Και επειδή ο φούρνος δεν είναι το ίδιο αποτελεσατικός με τον ήλιο, αν ακολουθήσετε την δικιά μου διαδικασία χρησιμοποιείστε μικρές πιπεριές.
Step 1:
First you need to drain your peppers. The ideal solution would be to be drained to the sunshine of a warm summer day, but because the sun is currently an endangered specie, the same work can be done by an oven. So at low temperature (around 50 degrees Celsius) let the peppers in the oven until the become dry and juiceless.
Tip:
The relatively large peppers, that i picked for the second garland, didn't dry, but they were cooked. And because the oven is not as effective with the sun, if you follow my own process uses small peppers
.
Βήμα 2:
Θα χρειαστείτε σπάγγο και μια βελόνα για να φτιάξετε την γιρλάντα με τις πιπεριές.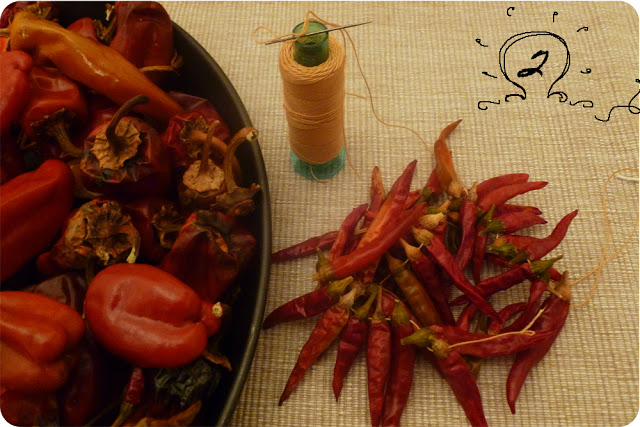 Step 2:
You will need a needle and twine to make a garland of red peppers.
Βήμα 3:
Περάστε την κλωστή από το σκληρό κοτσάνι κάθε πιπεριάς και όχι από την σάρκα της, για να μην υπάρχει κίνδυνος να κοπεί η πιπεριά και καταστραφεί η γιρλάντα σας!!
Προσοχή: Αν χρησιμοποιήσετε και εσείς μικρές καυτερές πιπεριές χρησιμοποιείστε γάντια για αυτό το βήμα. Η καψαϊκίνη ( η ουσία που προκαλεί το κάψιμο της πιπεριάς) εμποτίζεται στα ακροδάχτυλά σας και δεν ξεβγάζετε με σαπούνισμα δυστυχώς και μένει αρκετά. Οπότε σε περίπτωση που τρίψετε τα μάτια σας ή βάλετε τα δάχτυλα στο στόμα σας να ξέρετε ότι θα υποφέρετε λίγο από το κάψιμο!
Step 3:
Pass the thread from the hard stem of each pepper and not from the flesh, cause there is a possibility the pepper to to cut and your garland will be destroyed!
Caution: If you also use small hot peppers, use gloves for this step. Your fingertips will be infused with capsaicin (the substance that causes the burning of the pepper) and it won't rinse with the soap. Instead it would even take a day to fend off. So in the case of not wearing gloves, if you rub your eyes or put your fingers in your mouth know that you will suffer a bit from burning!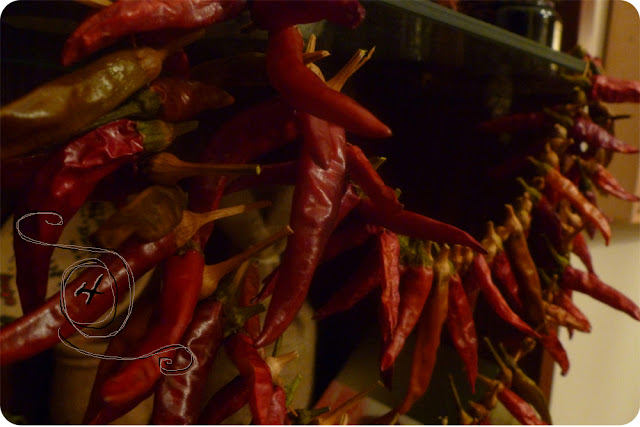 Βήμα 4:
Η γιρλάντα είναι έτοιμη να την κρεμάσετε όπου εσείς επιθυμείτε! Εγώ την κρέμασα σε αυτό το ράφι με τα διακοσμήτικά-χρηστικά είδη κουζίνας, ρίξτε μια ματιά!
Step 4:
The garland is ready to to be hanged anywhere you desire! I hung on this rack with decorative-useful kitchen stuff, take a look!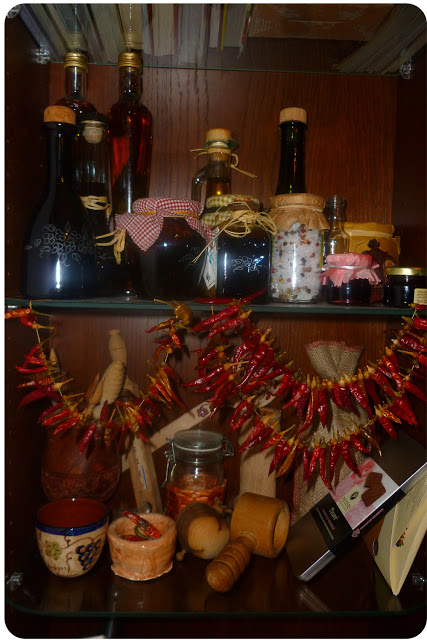 Λάδια με μπαχαρικά, περίεργες μαρμελάδες, καρυδοθραύστες,σκαλιστές κουτάλες, γουδιά, αρωματικά τσάγια εξωτικά χαρμάνια, ωω τα λατρεύω αυτα τα ράφια!
Oil with spices, unusual jams, nutcrackers, mortars, carved ladles, exotic teas flavored blends, ohh I love these shelves!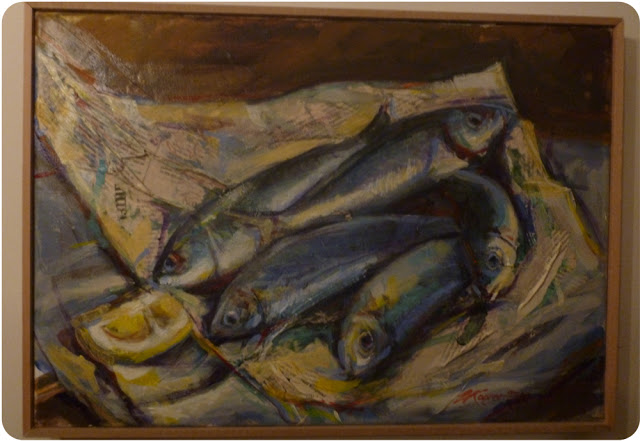 Η δημιουργικότητα τελικά είναι κληρονομική, δεδομένου ότι αυτό έργο είναι του μπαμπά μου!
Creativity is ultimately inherited, since this painting is dad's!
Σας εύχομαι ένα υπέροχο, δημιουργικό Σαββατοκύριακο! // I wish you have a lovely, creative weekend! =)