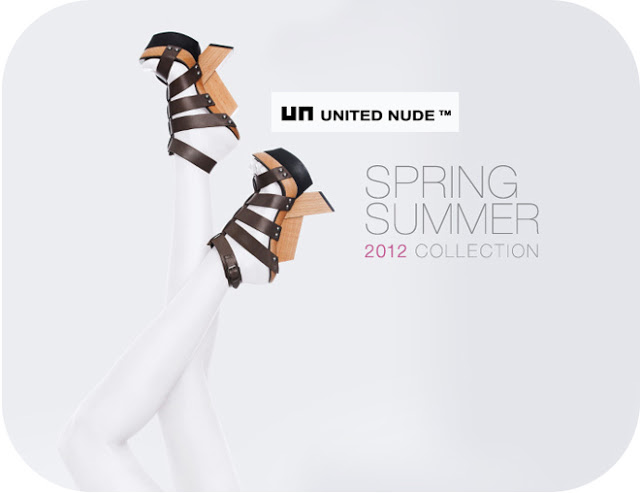 ♫ ♪ Kirsty McColl - In these shoes?
(Scroll down for translation =) )
Τις προάλλες έτσι όπως χάζευα στα μαγαζιά, πήρε το μάτι μου κάτι παπούτσια που ψηλά ήταν αλλά τακούνι δεν έβλεπες! Τι στο καλό, πλησιάσα στην βιτρίνα και σαστισμένη συνειδιτοποίησα πως ήταν τα πιο περίεργα παπούτσια evah! Τα τακούνια της united nude είναι αδιαμφισβίτητα τα πιο εκκεντρικά τακούνια που έχω δει! Θα μπορούσα να αγοράσω κάποια και να τα έχω στα ράφια της βιβλιοθήκης μου, γιατι θα λυπόμουν να τα περπατήσω, απλώς θα τα θαύμαζα! Ντάξει κακά τα ψέματα θα τα φορούσα όλοι μέρα αν μπορούσα! Άντε! Όσο για την νέα τους συλλογή με τα μποτάκια μέχρι τον αστράγαλο, είναι ζαχαρωτά από σουεντ σε σχήμα παπουτσιού, δεν μπορώ να σκεφτώ τίποτα καλύτερο για αυτά!! Μην ξεχάσετε να δείτε και τα φλατ παπούτσια τους, τα σχέδια νομίζω είναι για όλα τα γούστα!
Εγώ πάντως θα αρκεστώ στο να τα βλέπω μιάς και είναι λίγο έξω από το μπάτζετ μου, αλλά και το οφθαλμόλουτρο μια χαρά μου πέφτει!
Ορίστε και η σελίδα της United Nude και όσοι είστε αρκετά τυχεροί ψάξτε πού είναι το μαγαζί τους στην πόλη σας! Να ευχηθώ καλά ψώνια;;
Και μην ξεχνάτε πως η σελίδα μου στο bloglovin' και στο φατσοβιβλίο σας έχει πεθυμήσει!
The other day as i was out for shopping, my eye was caught by some really odd high heels! What the heck, i thought and I approached the window. Well they were high heels without a heel, the strangest shoes evah!
The united nude heels have the most eccentric high heels, I've ever seen! I could buy some and have them on the shelves of my library, because it would be a pit to perish them in the streets wearing them, i would simply admire them! To be completely honest i would wear them all day. Ok, are you satisfied now? As for their new collection of ankle boots, they are candies made of suede in shoe shapes. I just can't think of anything better for them.Oh and don't forget to check out and flat shoes, I think are designs for all tastes!
However, I will be content by looking at them as they are out of my budget!
Here is the website of United Nude and you who are lucky enough search their shop in your city too! Should i wish you all good shopping?
And don't forget that my bloglovin' and facebook pages missed you!